The September period is a busy time of year for those involved in sports around Dunboyne. Whether its football or camogie finals, athletics, or training for the Dublin marathon, it is important to listen to your body and heed any possibly signs of injury.
Hamstring injuries are very common in the aforementioned sports, with a sprinting action being the most likely causative factor. A recovery period of up to 6 weeks is common with such injury, which is not ideal if trying to get back on the track or pitch to compete. Therefore an accurate assessment of such hamstring injuries is critical for management of the problem. For example, I recently treated a teenager from a local athletics club in Co. Meath. She complained of a reoccurring hamstring injury of over 2 months. Tightness in her hamstring was the main complaint. On further evaluation following the use of some special tests, it was identified that she had referred neural pain from her lower back, causing tightness and spasm in her hamstring and gluteal muscles. The important point here being- accurate diagnosis is paramount.
Once diagnosed, a tailored rehabilitation plan can be put in place. Strengthening and sports specific drills are important to return to match fitness.
Should there be a chronic hamstring issue present which has failed to heal with conservative physiotherapy intervention the use of Shock wave therapy can help restart the healing process. Shockwave therapy can be integrated into your rehabilitation plan from the onset.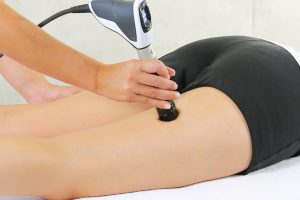 Shock wave therapy is a non-invasive pain free method of encouraging the natural healing process of an injured tendon or muscle.
Should you have an queries on the uses of Shock wave therapy please feel free to contact us at Dunboyne Physiotherapy Clinic on 01-5240496 or at info@dunboynephysioclinic.ie
Bryan Henry MISCP
Dunboyne Physiotherapy Clinic
www.dunboynephysioclinic.ie